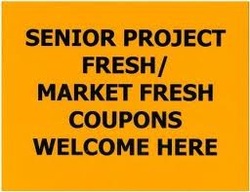 The Senior Farmers Market Nutrition Program, known as
Senior Project FRESH
/Market FRESH in Michigan, provides older adults who qualify, with unprocessed, Michigan-grown products from authorized farmers markets and roadside stands throughout Michigan.
Qualified older adults and Wisewoman participants receive coupons that are used to purchase Michigan-grown produce at registered roadside stands and farmers markets. Eligible items include: berries, lettuce, tomatoes, onions, beans, honey, and
more
.
Look for this yellow sign for participating vendors, or ask the Market Master in the red vest!
IOSCO COUNTY RESIDENTS can contact:
Dale Evilsizer, Iosco County Commission on Aging
220 North Washington, Hale 48739
Phone: 989-728-6484 Email: devilsizer@ioscocoa.org
Grow your benefits!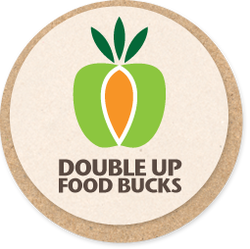 Double Up Food Bucks, a project of the Fair Food Network, provides families receiving food assistance benefits with the means to purchase more fresh fruits and vegetables at farmers' markets.

Use $20.00 from your SNAP benefits and get another $20.00 from the Double Up Food Bucks program! These matching funds are eligible only for Michigan grown produce.

Our market typically distributes over $11,000 annually in food assistance tokens to our residents in need.
SNAP (Supplemental Nutritional Assistance Program)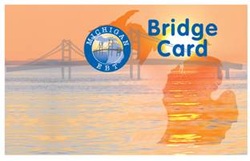 As of October 1, 2008, SNAP is the new name for the federal Food Stamp Program. The
Supplemental Nutrition Assistance Program (SNAP)
allows you to use your Bridge card at the market! Our Market Masters at the RED tent will swipe your Bridge card in exchange for $1.00 tokens to use on eligible food items.
Want just $1.00? Fine! Want $20? Fine!
Naturally, fruits and veggies are eligible. But, did you know that you can also use Bridge money for an
oregano plant
or a
tomato plant
? Yes sir, they are part of the plan. Buy a nice little yellow pear tomato plant at the market and
grow your own
at home!
For more info, click on the website below or ask one of our Market Masters.
http://www.fns.usda.gov/snap/
buy fresh...buy local
for more info call us at 989.909.3193